Introducing​ ​Canadian​ ​born​ ​beauty​ ​brand​ ​VERDURA​ ​naturalternatives. Modern​ ​Luxury​ ​Skincare,​ ​Naturally
September 27, 2017

VERDURA​ ​naturalternatives​ ​debuts​ ​its​ ​high-end,​ ​cruelty-free​ ​skin​ ​care​ ​line​ ​formulated​ ​with​ ​safe, non-toxic​ ​and​ ​plant-based​ ​ingredients​ ​and​ ​packaged​ ​with​ ​luxury​ ​and​ ​elegance.​ ​Based​ ​in Ontario,​ ​Canada​ ​and​ ​founded​ ​by​ ​husband​ ​and​ ​wife​ ​Claudio​ ​and​ ​Brigitte​ ​Urbani​ ​who​ ​believe​ ​in indulging​ ​without​ ​compromising,​ ​VERDURA​ ​naturalternatives​ ​is​ ​gentle​ ​on​ ​both​ ​the​ ​skin​ ​and​ ​the planet.

Created​ ​with​ ​passion​ ​and​ ​love​ ​by​ ​co-founder,​ ​aesthetician​ ​and​ ​skin​ ​cancer​ ​survivor,​ ​Brigitte, VERDURA​ ​naturalternatives​ ​uses​ ​organic​ ​and​ ​exotic​ ​ingredients​ ​from​ ​around​ ​the​ ​world, carefully​ ​selected​ ​for​ ​their​ ​skin​ ​repair​ ​abilities​ ​and​ ​medicinal​ ​properties.​ ​Inspired​ ​by​ ​Italy's colorful​ ​landscapes​ ​and​ ​old​ ​traditions,​ ​VERDURA​ ​naturalternatives​ ​applies​ ​natural​ ​colour​ ​and pristine​ ​branding​ ​for​ ​a​ ​skin​ ​care​ ​regiment​ ​that​ ​is​ ​as​ ​luxurious​ ​as​ ​it​ ​is​ ​effective.
"Each​ ​product​ ​is​ ​formulated​ ​by​ ​us​ ​to​ ​achieve​ ​specific​ ​results​ ​with​ ​the​ ​highest​ ​quality​ ​ingredients from​ ​around​ ​the​ ​world,"​ ​says​ ​co-founder​ ​Brigitte​ ​Urbani.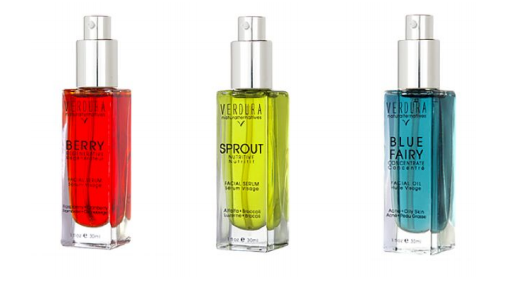 With​ ​its​ ​sleek​ ​glass​ ​packaging,​ ​VERDURA​ ​naturalternatives​ ​offers​ ​a​ ​line​ ​that​ ​is​ ​eco-friendly, 100%​ ​vegan,​ ​natural,​ ​gluten​ ​free,​ ​Peta​ ​certified​ ​and​ ​free​ ​of​ ​fillers,​ ​synthetic​ ​fragrances,​ ​artificial colorants,​ ​petrochemicals,​ ​parabens​ ​or​ ​sulfates.
As​ ​a​ ​skin​ ​cancer​ ​survivor​ ​and​ ​with​ ​over​ ​25​ ​years​ ​as​ ​an​ ​aesthetician,​ ​co-founder​ ​Brigitte,​ ​was inspired​ ​to​ ​develop​ ​a​ ​safe​ ​and​ ​non​ ​toxic​ ​skin​ ​care​ ​line​ ​to​ ​ensure​ ​individuals​ ​can​ ​pamper themselves​ ​without​ ​compromising​ ​the​ ​health​ ​of​ ​their​ ​skin.
VERDURA naturalternative​s offers a holistic, ethical and luxurious alternative to your daily skin care​ ​routine.
To​ ​learn​ ​more​ ​about​ ​VERDURA​ ​naturalternatives​ ​or​ ​to​ ​request​ ​images/product​ ​samples, please​ ​contact
​ ​​ ​​ ​​ ​​ ​​ ​​ ​​ ​​ ​​ ​​ ​​ ​​ ​​ ​​ ​​ ​Caitie​ ​McIntosh Caitie@charmingmedia.ahdigitalagency.com
905-706-0511
​ ​​ ​​ ​​ ​​ ​​ ​​ ​​ ​​ ​​ ​​ ​​ ​​ ​​ ​For​ ​more​ ​information​ ​or​ ​to​ ​shop​ ​for​ ​VERDURA​ ​naturalternatives,​ ​please​ ​visit
www.verduranaturalternatives.com
Follow​ ​VERDURA​ ​naturalternatives ​ ​Instagram​ ​and​ ​Facebook
@​ ​VERDURAnaturalternatives
About​ ​​VERDURA​ ​naturalternatives​:​
F​​ounded​ ​in​ ​2012​ ​by​ ​husband​ ​and​ ​wife​ ​duo,​ ​Claudio​ ​and Brigitte​ ​Urbani,​ ​​VERDURA​ ​naturalternatives​​ ​has​ ​​wide​ ​range​ ​of​ ​skin​ ​care​ ​and​ ​bath​ ​products. VERDURA​ ​naturalternatives​ ​delivers​ ​a​ ​truly​ ​holistic​ ​beautifying​ ​experience​ ​to​ ​its​ ​consumers delivering​ ​ethical,​ ​luxurious​ ​and​ ​innovative​ ​products.​ ​Operating​ ​out​ ​of​ ​Smiths​ ​Falls​ ​Ontario, VERDURA​ ​naturalternatives​ ​is​ ​available​ ​in​ ​small​ ​boutique​ ​shops​ ​as​ ​well​ ​as​ ​online.​ ​Now​ ​selling worldwide​ ​with​ ​retailers​ ​in​ ​the​ ​U.S.​ ​and​ ​Australia​ ​they​ ​continue​ ​to​ ​grow.