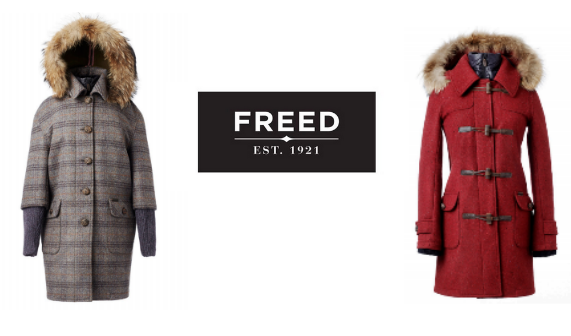 Ninth Decade Canadian Manufacturing Company Designs Private Label Line for Fall 2014!
July 22, 2014
July 22st, Winnipeg – Iconic Canadian manufacturing fashion house, Freed & Freed International Ltd. will be firmly re-establishing its presence in the marketplace this fall/winter with a private label luxury coat collection, FREED, under the creative direction of Ms. Marissa Freed., 4th generation company president. After discovering Old English tweed in the rafters of the over 50,000 sq/ft Freed & Freed factory, Marissa, 35, was inspired to re-create her family's long standing legacy and revitalize how Canadians consider warmth in conjunction with style, bringing forward the innovative designs in the latest collection of FREED.
Inspired by her family's rich history in Canada's garment industry, Marissa Freed will be leading the brand into an exciting new chapter of luxury combined with "Made In Canada" quality. Freed & Freed's presence in the high fashion world will be marked with a stunning product line of luxurious and high quality winter coats that incorporate a hybrid of technology, innovation, aesthetic design, class and style.
The new FREED Heritage line will be available at high end retailers such as Holt Renfrew, Pink Tartan, Got Style, Honey, Andrew's, Saffron Road and Hollywood Boutique.
Top Left To Right: DAME – Torontonian, Vancouver, Montrealer
Bottom Left To Right: DAME – Brandy, PEI, Abbey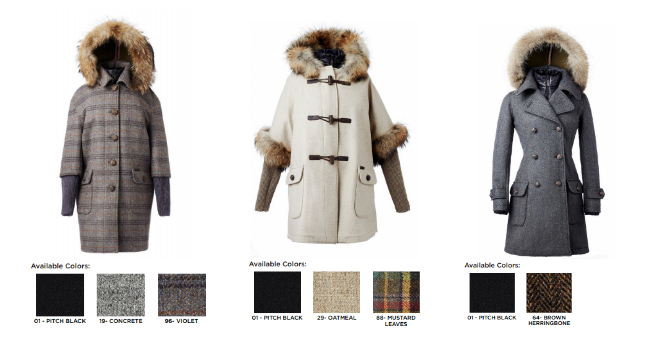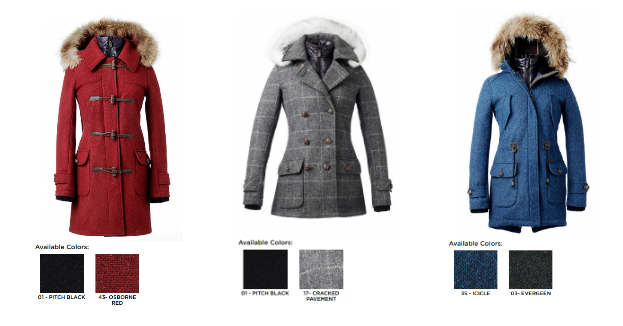 Left to Right: HOMME – Jasper, Brandon, North Bay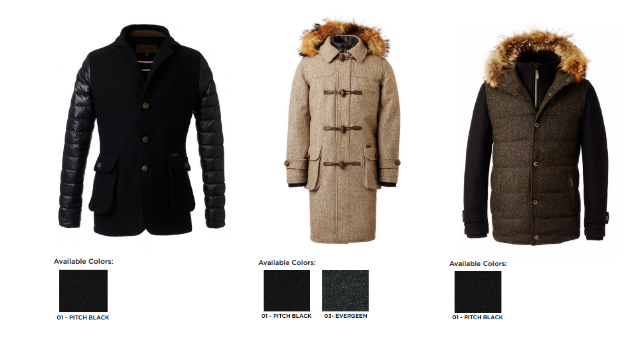 In addition to high quality materials such as English tweed, wool, fine leather trims and furs, each FREED coat features Dintex, a waterproof and breathable TPU (Thermoplastic Polyurethane) membrane which is highly weatherproof, wind resistant, recyclable and completely toxic free. The TPU membrane acts as a protective layer against the elements throughout the seasons while allowing moisture to wick off the body. This technology keeps the wearer comfortable, dry and most importantly, warm, without the added bulk characteristic of traditional Canadian winter coat styles.
All coats are designed and manufactured in Canada and the combination of high-fashion design and innovative technology for warmth puts the FREED Heritage coat at the top of every Canadian's must-have list for winter.
The highly anticipated new FREED line is scheduled to hit retail locations during the first week of September.
For more information on product availability, product images and information, interview requests, Freed & Freed company history and samples for editorial shots, please contact valerie@charmingmedia.ca.
About FREED: FREED is a heritage brand created from the historic 93 year old Canadian garment manufacturers Freed & Freed International Ltd. based in Winnipeg, Manitoba. Today, Freed and Freed stands as one of the few remaining Canadian, 4th generation, and family run businesses in the garment industry. Long known for creating Ladies & Men's fine apparel, the company decided to amalgamate its vast knowledge of men's tailored goods and outerwear with today's greatest innovation and technology resulting in a new brand that combines the finest of luxuries. FREED's heritage line delivers a redesigned product based on the conventional dress coat and dress blazer. The line is composed of strong silhouettes in one of the world's most opulent and recognizable fashion textiles; English Tweed, a 100% eco-friendly pure virgin English wool. The FREED brand is proudly designed and manufactured in Canada. In addition to the new line, FREEDs most notable and recent partnerships have included producing the coats for this year's Canadian Olympic Team to wear at the Sochi Games in conjunction with HBC and is also the official designer, developer and supplier of Canada's RCMP uniform.
Instagram @freedandfreed and twitter @freedandfreed